The Jewish Art Calendar 5781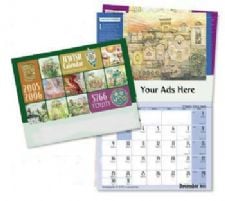 The Jewish Art Calendar is a beautiful, 13 month Calendar full of information, educational messages, Sabbath candle-lighting times, and an array of beautiful thematic Jewish artwork. It will undoubtedly be displayed in homes and offices throughout the local community, ensuring optimum visibility for your product or service. Please consider placing a Greeting or Ad in this beautiful publication which will be sent to over 2000 homes around the area.
The deadline is
August 13, 2020
ADVERTISE -  place an ad in our calendar  click here
By placing an advertisement in the Jewish Art Calendar you will be both promoting your business to over 4,000 potential customers and supporting the Jewish Community.
SPECIAL OCCASIONS - Submit a family occasion  click here
Share your life's joys! Send us your family birthdays, anniversaries, and Yahrzeits so that we can unite the community & share in each other's joyous occasions.
SAMPLE - For a sample page  click here
To receive a free Jewish Art Calendar - Please click here and join our mailing list
 

- Questions 
- More information 
- To see a hard copy of last year's calendar 
please contact the office at 608-535-9770 or Email us at [email protected] 
  The Jewish Art Calendar is, G‑d willing, set to be completed and mailed to over 2,000 Jewish Households free of charge before Rosh Hashana.